Our Clients WIN!
Check out how these Homeowners sold for more than their neighbors!
This homeowner got $35k more than the neighbor across the street
The previous owner of this home is senior-enlisted in the Navy and had PCS orders to the East Coast. Just like so many of our clients, she was referred to us by a mutual acquaintance. At the time, there were two other model-match homes in the same neighborhood that had not yet sold— and were listed for far less than what she was hoping to sell for. With careful preparation, planning and a few strategic and impactful improvements that we assisted in coordinating, we were able to obtain 8 offers within the first 5 days on the market— with FIVE of them ABOVE what the same model-match across the street ended up selling for! 37 days after listing the home for sale, the home was SOLD for $534,000 — shattering ALL records in over 10 years for this model in this neighborhood by over SEVEN percent!
Hawken Dr, San Diego
Simple updates like painting kitchen cabinets white ca make a HUUUGEEE impact on the property presentation.
Before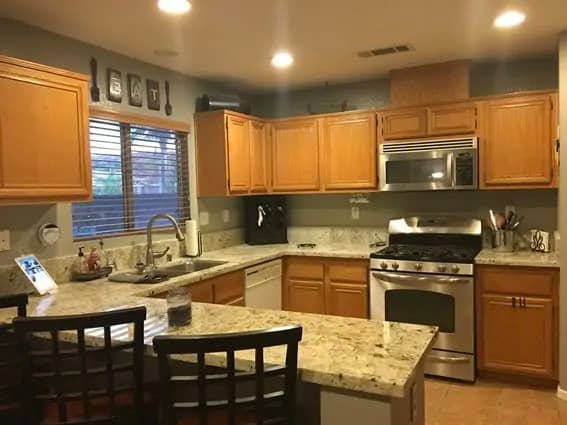 After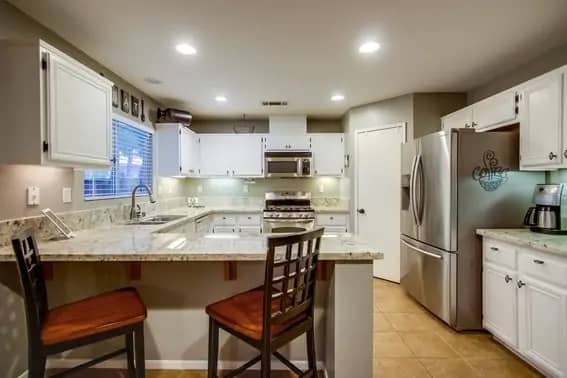 SOLD for $37,000 MORE in far less time than they expected!
The husband in this military family was on a Navy WESTPAC deployment when he received orders for a Permanent Changes of Station (PCS) to Virginia with his "report by" date within days of his expected return from deployment! Rather than prolong the stressful uncertainty of how they would rent or sell their home, they proactively contacted us well in advance to discuss strategy. Initially, they were worried that it would take several months to sell their home —like many comparable homes in the area. An additional stressor was that they had recently financed an expensive solar system and the loan was secured by a $29,000 lien. Having just purchased the home less than 2 years prior, they had not yet had the chance to accumulate a large amount of equity. Having been referred to us by a raving past client, they hired us to get the home sold. We immediately began assisting with coordinating minor but strategic upgrades to place the home in the best light possible, while maximizing their net profit. Two weeks and several targeted marketing campaigns later, the property went live. Within days, they accepted an offer for more than they were expecting, and 45 days later their home was sold for a 5-figure net profit— after all expenses INCLUDING paying off the solar system. Ecstatic that they sold their potential "problem" home 82% FASTER than the average home in the area, they are now able to concentrate on their PCS and not have the burden of selling a home be a distraction. Do you or someone you know have orders out-of-state and need to sell? Contact us and see how we can help you!
Leafwood, Murrieta
Seller Feedback
"Jed is the best realtor out there! He assisted with the purchase and sell of my home. The purchase was completed within 30 days and the sell was completed within 45 days. Jed will do whatever it takes to get the job done and is extremely knowledgable in his profession. I would highly recommend Jed to anyone looking to purchase or sell their home!"
Veteran breaks price records on his complex
The Retired Veteran who owned this condominium in Imperial Beach had purchased another detached house to live in and had since been renting the unit out. After a while, he decided being a landlord just wasn't for him and contacted us to sell it. Both of us knew going into it that the price he was hoping for going to be a stretch and would require a sound strategy including top-level presentation of the home, as well as beautiful marketing and shrewd negotiating. Before going live, we assisted the owner with preparing the property for sale, including strategic improvements, including professional staging to ensure the presentation would be congruent with the pricing. Within the first 3 days of listing it, we had received multiple offers, and had put the property under contract for the top-end of our initial target— breaking ALL-TIME price records in this development by $15,000.
15th St, Imperial Beach
8 offers in 3 days!
Watch the seller feedback
Why get your condo VA approved?
When the seller mentioned he was planning on selling his unit, we proposed that we started the process of getting his whole complex VA approved in order to increase his pool of buyers and leverage more offers when selling his unit. A few months later, after 2 flake cash buyers, we closed the deal with a VA buyer.